VISIT OUR WEB CLASSES
and develop Synergistic body tone awareness & Core muscle strength
with Shirley McLain Baldasare ND & Maren Schwital ND
   for Info contact
info@dancesynergymba.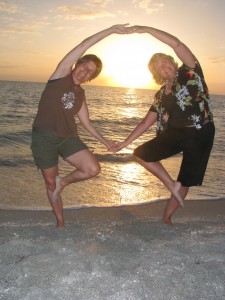 Feel the waves of the ocean move your whole being
MOVEMENT CLASSES Body tone awareness, Core muscle strength & Dynamic stretching
tap dance – For all closet tappers, developing the art, fun & joy of rhythm
Alignment tools to achieve freedom from pain are shared dance synergy
– Fundamental movement to align the spine, develop the muscle groups equally, protect the body from injury while gaining strength, flexibility and freedom of movement
advanced synergy – Pre-technique course to facilitate strength & flexibility standing, inclusive of proper use of weights, opening visceral pumps and introduction to Ballet, Modern & Jazz technique
visceral synergy – Movement in the rhythm of the internal organs that releases stress from the deepest systems.
children's creative dance movement & technique – share the tools to remember the Joy of Dance. Variations from the base class help explore the different "layers of body awareness". Check our events site for current classes!
SCHEDULE ADULT AND CHILDREN'S CLASSES
Pre-registration required for each class! Please call 614-848-4998 for sign up
TUESDAY
WEDNESDAY
THURSDAY
FRIDAY
SATURDAY

---

4:30-5:15pm
Technique & creative expression
children age 8-teens

---

---

5:30-7 pm
adult work shops

---

6:30- 7:30 pm Synergy

---

11:00-12pm
Synergy

---

Synergy 10:15-11:15am

Modern 11:30-12:30 pm

Tap 12:30-1 pm
---
---
---